CERTIFICATE IN REFLEXOLOGY STARTS 14th JUNE! ENROL NOW!
Email or phone us to request an enrolment pack!
Kia ora, welcome to the Lotus Holistic Centre!
Would you like to study naturopathy & herbal medicine, or massage therapy, or learn
something new that will assist in your own wellbeing? Enquire with us today!
ENROL NOW FOR A CERTIFICATE IN WELLNESS MASSAGE IN GISBORNE!
This course will introduce you to basic concepts of relaxation massage and other modalities of body therapy. The focus is on practical, hands-on learning, and includes relevant theory. You will learn sports massage, movement integration, polarity therapy, foot reflexology, aromatherapy, anatomy and physiology, first aid, and much more! This Gisborne course starts on 19th August 2014, and we will need to have you enrolled by the 12th August. NZQA student loans are available for this course.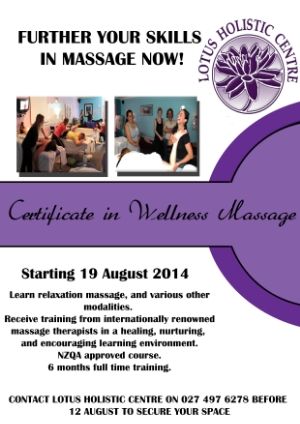 FREE CLINICS OPEN NOW!
We have a limited number of clinics available to the public during the school term. We welcome enquiries for FREE clinics with a graduating year 3 Naturopathy student - each student is required to complete a number of fully supervised clinics, with a qualified, experienced Naturopath observing.
You are invited to register your interest with our office staff for the supervised training practitioner sessions which are carried out in the classroom on site on Mondays at 1.15pm, with a small fee of $20 for a one hour massage. Our students benefit from the experience of working with a wide range of people.
We also welcome you to contact one of our graduates for a consultation or treatment - contact our office for details of a naturopath or massage therapist living near you.
Lotus Holistic Centre Ltd | 1024 St Aubyn Street West | Hastings 4120 | Hawke's Bay | New Zealand
Phone / Fax: 06 876 8818 | Email: office@lotusmassage.co.nz
WEBSITE DESIGNED BY www.mmdesign.co.nz | CONSTRUCTED BY www.birdwoodsoftware.co.nz